Les Miserables is, above all, the story of Jean Valjean, who was captured for trying to feed his hungry sister and her children. His imprisonment lasts for varying time durations, as he breaks out again and again until he encounters a bishop who does him a turn so magnanimous, that it causes a complete change in his psyche. From then onward, his story is one of good against bad, where he always chooses self-sacrifice in the face of the safety of one little girl entrusted to his care by her unfortunate mother- for this girl, he becomes the light that protects her from darkness; her savior, her father and more. It is the story of his many conflicting thoughts, his suffering, his constant struggle. Along the way, we grow well-acquainted with many other characters- the young woman Fantine, who spends her whole life trying to provide for her daughter through the deep miseries she bears; Cosette, the little girl whose well-being is central to the plot; Marius, the noble and selfless young man who loves truly and wishes to convert a monarchy into a republic; Thenadier who will unscrupulously fall to any lengths to achieve his aims, Javert, who struggles with questions of authority and is thus unable to reconcile his personal agenda with that of the monarchy he serves; and several others.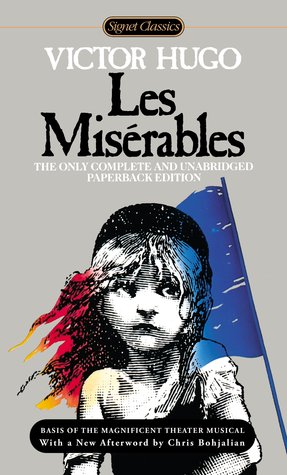 There is something about the thickest classics I've read- you dust the covers and plunge into a vast, unexplored world. Like walking through wilderness, there is so much overgrowth when you start that you feel small and pale in comparison. But the further in you travel, the more captivated you become by the bits and pieces of beauty you find enclosed within its pages. Reading a classic is usually challenging- it tests your patience. But the rewards you reap are beautiful. Les Miserables is one such book. I started reading slowly, unsure of what I would find. It was so luxurious, richly scripted and well-crafted to the finest detail of its plot, that I was excited about how it would proceed. In addition to that, it painted a great picture of Paris at the epoch in which it is based- the story is mostly set between a ten year period and culminates with the July Revolution of 1832.
There is a lot to digest in Les Miserables. From complex character sketches to great descriptions of places and events to philosophical and political discussions, it paints quite a picture. The plot often takes detours at critical moments in the story, which goes to show how much patience you really need to proceed with this 1400-something pages sage. The imagery is rich. I was constantly lost within the passages of this book. There are many places where I could not help but disagree with Victor Hugo though, mostly about questions of God (for he chose all his terrible characters to be disbelievers of God and all his best ones to be deeply devoted to Him- which was rather linear and reflected his personal beliefs), but that was okay because it was written so long ago. There was a lot I was amused by- such as a long passage in which he ventures to mention 'virginal' Cosette's toilette and then immediately plunges into three paragraphs about how unbecoming it is to disrespect the innocence of  a virgin by even merely drawing attention to it; or the passage where Cosette and Marius are conversing and Marius looks away if her dress lifts even as far as her ankle or if it plunges a little down her neck.
A book that makes you weep proves that it touched your heart. That is why I loved Les Miserables so much. I was crying when Fantine, Gavroche, Eponine, M. Gillenormand or the little Cosette suffered. I was very moved when Jean Valjean suffered. The characters of this story really touched me- Marius, Valjean, Fantine and Gavroche especially. I found the grown-up Cosette a little hard to bear.
Anyway, I know I will cherish this book and I do not regret having spent so much time on it. Definitely a great classic, every bit as brilliant as promised.